PHYSIOSKI IN LES 2 ALPES
MASSAGES & OSTEOPATHY IN LES 2 ALPS
Well-Being Massages

RELAXING MASSAGE
Creates an immediate sense of peace in your body and mind.
30min - 50 € / 45min - 70 € / 60min - 90 €
ORIENTAL MASSAGE
That's the deepest and most relaxing well-being massage
1h15min - 115 €
HEAD IN THE STARS
Relaxation of the neck accompanied with ideal tissue work to let your mind go.
30 min - 55 € / 45 min - 75 €
BESPOKE WELL-BEING MASSAGE
With the help of your Physioski massage therapist, create your own customised version of the well-being massage.
30min - 65 € / 45min - 85 € / 60min - 100 € / 1h30min - 145 €
CANDLE MASSAGE
Ultra-repairing and innovative ritual with Fleurs de Neige fragance candle-balm.
45min - 85€
Osteopathy

OSTEOPATHY - MANUAL THERAPY
Relieve the main part of accute or chronicle pains.
30min - 65 € / 45min - 85 € / 60min - 100 €
DIGESTION & SUPPLEMENTS
After a check-up and manual treatment of the visceral system, food advice and supplements recommendations.
30min - 65€ / 45min - 85€
Sports Massages

15min - 30 € / 30min - 55 € / 45min - 75 € / 1h - 95 €
PRÉPARATION TO SPORT
This is what all the athletes of the French team do before skiing. Why not you ?
RECOVERY MASSAGE
After sports, muscular relaxation to recover faster.
Facial treatments
KOBIDO
The first step of this massage of Hapanese origin is on the accupressure points to ensure the proper circulation of energy in the meridians.
The second step restores the skin's elasticity and smoothes it. The gestures are very pleasant and provide a good time of relaxation.
30min - 55€ / 45min - 75€
LIFE SAP - PURE ALTITUDE
Makes the complexion glow, smoothes the skin and activates cell regeneration.
75min - 115€
OXYGEN BOWL - PURE ALTITUDE
Traditional facial designed to relax and make the complexion glow, with a massage of the reflex zones of the face.
45min - 75€
BODY CARE "LIKE SNOW" - PURE ALTITUDE
'Cristaux de Neige' scrub and cream wrap 'Comme la Neige' for a relaxing and nourishing action.
45min - 75€
SPECIAL FORMULA
PERSONALISED TREATMENT
Manual therapy, osteopathy complemented with sports or well-being massage.
1h - 105€ / 1h30 - 145€ / 2h - 175€
FOR HER
Face care 30min and relaxing massage for an hour.
135€
PACK 5 HOURS
Use as you want 5 hours of massages, to discover our treatments. Usable for the whole family.
455€
PACK PREPA & RECOVERY
Preparation of 30min before your sport and 30min of massage after to recover faster.
110€
PHYSIOSKI'S SPA & ADDRESSES IN THE 2 ALPS
17 Rue des Vikings, 38860 Les Deux Alpes
Since holidays in the mountains are also a time for relaxation, Hotel Les Mélèzes*** allows you to take time for yourself. The property has a wellness area with jacuzzi, sauna, massage shower and massage room. You will find a physiotherapist and an osteopath Physioski for a moment of relaxation.
18 Rue du Cairou, 38860 Les Deux Alpes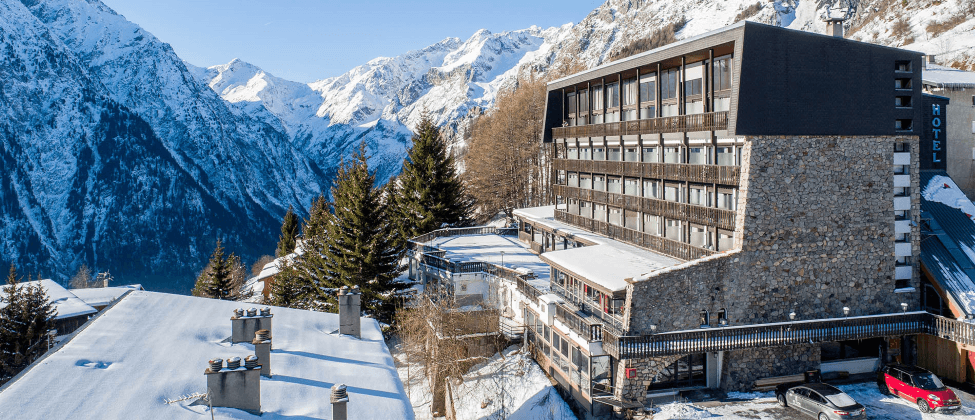 A flawless stay
Hotel Ibiza*** is located in the heart of the resort of Les 2 Alpes and offers you the opportunity to take advantage of your holidays to take care of yourself. The establishment has a 15-metre heated swiming pool, jacuzzi, sauna, hammam and massage room to discover the Physioski treatment by a physiotherapist and osteopathic masseurs.
PHYSIOTHERAPISTS AND OSTEOPATHS MASSEUSES FROM THE 2 ALPS
GALLIGANI MANON
Osteopathic diploma
Physiette Les 2 Alpes since 2017
Osteopath in Nîmes
Former shooter D1
Speak French - Englis - Spanish fluently
NIEWOLD LIDWINA
Masseuse - Physiotherapist
Physiette Les 2 Alpes since 2019
Football Physiotherapists
Speak French - English - German and Dutch
THE RESORT OF 2 ALPS
Les 2 Alpes is a French winter sports resort, located in Oisans, near Alpe d'Huez, in the Ecrins massif. Located in the village of Mont de Lans and Venosc, hence its name Les 2 Alpes, in the department of Isère and the region of Auvergne-Rhône-Alpes, 64km south-east of Grenoble (1h10 by car) and 4h15 from Paris by TGV and car. It's served for its foreign customers by Grenoble-Isère or Lyon Saint-Exupéry airports.
Located at 1650m, 2 Alpes it has one of the largest skiable glaciers in Europe at 3600m altitude, very famous for its summer skiing and its high altitude domain, particularly accessible even to beginners. 51 detachable chairlifts, cable cars, and an underground funicular serve more than 200km of slopes.
Off-pistes enthusiasts will find plenty of beautiful and easily accessible routes, some of which are wonderful and can reach heights of over 2000m and go as far as La Grave and La Meije or Saint-Christophe en Oisans, located in the valleys on either side of the estate.
It's a dynamic, sporty and family resort. Many bars, restaurants and hotels allow you to have a good time with friends in a bar or restaurant, the 2 Alps offer a privileged welcome to families as well as to vacacioners and has a swimming pool and an ice rink.
The 2 partner hotels Physioski : Hotel Les Mélèzes*** and Hotel Ibiza*** are in the heart of the resort, easily accessible by foot or by car. While the hotel Les Mélèzes*** reserves its spa for its guests, Physioski guests can enjoy the spa of the Ibiza*** hotel. Thanks to the various spas of the Physioski partner hotels, the resort offers unique moments of relaxation with wellness massages, sports massages and osteopathy or manual therapy sessions performed by physiotherapists and osteopaths.